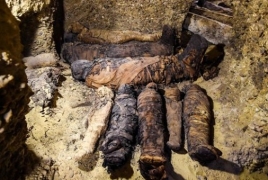 February 4, 2019 - 17:55 AMT
PanARMENIAN.Net - Egyptian archaeologists have uncovered ancient burial chambers that can shed light on the lives of middle class ancients dating back more than 2,000 years, the country's Supreme Council of Antiquities announced, USA Today reports.
The tomb containing more than 40 mummies was discovered in Minya, a desert province 150 miles south of Cairo. About a dozen of the remains were children, Mostafa Waziri, secretary-general of the council, told Al Jazeera.
The discovery was one of the largest and most important in recent times because it helps detail the day-to-day lives of normal ancients, Waziri said. He added that the find was made by Egyptians. The vast majority of previous discoveries were made by Europeans and Americans.
Waziri said the mummies appeared to be in good condition and that the mummification method was sophisticated, indicating the deceased had held prestigious positions and were probably upper-middle class.
"We have not found names written in hieroglyphics," he said, so the identities are not known. He estimated that the remains date back to the Ptolemaic era, a period of about 300 years that ended with the death of Cleopatra and Roman rule in 30 BC.