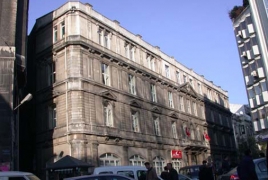 February 6, 2019 - 13:43 AMT
PanARMENIAN.Net - Court of Cassation in Turkey has ruled to return the title deed of Sanasaryan Han - built for the education of Armenian children - to the state, Ermenihaber.am reports.
A year earlier, that same court issued a historic decision with regard to Sanasaryan Han seized by the State, which did not allow it to be used. CoC ruled for the admissibility of the lawsuit, filed for the return of the title deed thereof. On the other hand, CoC described the previous title deed transactions with regard to Sanasaryan Han as "unlawful entries /irregular registrations".
Ali Elbeyoğlu, the attorney of the case defending the Armenian side's interests, said he is going to take the case to Turkey's Constitutional Court.
The Patriarchate of the Armenians of Turkey launched a legal action four years ago on Sanasaryan Han. In 2014, a lawsuit was filed with Istanbul 13th Civil Court of First Instance for the cancellation of the transaction, which resulted in with the seizure of the property. On 3 July 2014 the Court, first, found the case admissible; yet later, rejected it on grounds that it was not within its jurisdiction. Following this, the Patriarchate approached the CoC. While the legal procedure was underway, the DG for Foundations launched a tender and leased out the Han without waiting for the verdict.
Turkey's Armenian Patriarchate claims that the han, which was donated to the patriarchate in 1881 by a Russian-Armenian Mıgırdiç Sansaryan, belongs to them as they have the documents to prove the donation.