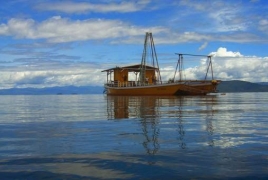 February 9, 2019 - 10:59 AMT
PanARMENIAN.Net - Tri Rismaharini, the mayor of the Indonesian city of Surabaya has pledged to help trace the Armenian and Russian footprints in the city before the country's independence era. It was requested by ambassadors of the two countries at a meeting Thursday, February 7, Republika.co.id reports.
"We will help search for the historical records first. If they are available, we are sending them later," Risma informed journalists here on Friday regarding her meetings with the two ambassadors.
Ambassador of Armenia to Indonesia Dziunik Aghajanian and Russian Ambassador to Indonesia Lyudmila Georgievna Vorobieva paid a courtesy call to Rismaharini on Thursday on the sidelines of their presence in Surabaya to attend the peak of National Press Day's commemorative event, due to be held on Saturday (Feb 9). Rismaharini said she knows about the Armenian footprints from the Sarkies brothers, the founder of Majapahit Hotel in Surabaya. Erected in 1920, the hotel, with colonial architecture, had been renamed several times. In the past, it had also been called "Oranje Hotel."
"The Sarkies brothers had a house in this city. It has currently become a shopping mall, the Tunjungan Plaza 5 (TP 5)," she remarked, adding that, in the past, the NAM Shop also belonged to the Sarkies brothers.
"The entrance gate of NAM shop still exists, and it is now preserved as a historical heritage," Rismaharini noted.
When queried about the Russian footprints in Surabaya, Rismaharini said she would search for credible information on the historical backgrounds of her city's submarine monument, as the submarine was claimed to be produced by the Soviet Union, now called Russia. In addition to tracing the historical evidence of the submarine, there was also a Russian consulate general building on Sumatera Street, but it has been closed since 1990. However, the building remains there until now, she noted.
The Russian footprints in Surabaya, the capital city of East Java Province, are also reflected by the existence of Russian soldiers, who died during the colonial war. However, their graves remain unknown in the city, the mayor stated. In helping track the graves of the Russian soldiers, she has requested the officers of the Surabaya city government's cleaning and green spatial agency to check the data on graveyards, including the Peneleh and Kembang Kuning graveyards.
In response to the Russian ambassador's offer for forging a sister city cooperation between Surabaya and Saint Petersburg, Rismaharini said she welcomed the offer. She also welcomed a similar offer from the ambassador of Armenia.