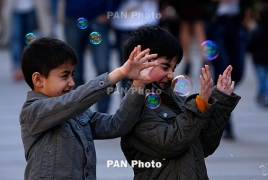 February 12, 2019 - 11:12 AMT
PanARMENIAN.Net - Hungary offers a lifetime personal income-tax exemption for women who give birth to and raise at least four children, euronews reports.
Prime Minister Viktor Orban announced over the weekend that he will offer families tax breaks and loan benefits in a bid to boost his country's birth rate.
In the announcement, Orban pointed toward his notorious anti-immigration policies as a reason for launching the incentives.
"There are fewer and fewer children born in Europe," he said.
"For the West, the answer is immigration. For every missing child there should be one coming in and then the numbers will be fine."
"But we do not need numbers. We need Hungarian children," he added.
Other points from Orban's 'Hungarian babies' programme are:
A low-interest loan of €31 500 for women under the age of 40 marrying for the first time. A third of the debt will be forgiven when a second child is born and the entire loan waived after any third child.
A loan program for families with at least two children to help them buy homes will also be expanded.
After the birth of a second child, the government will give €3 150 towards its family's mortgage, after the third child, €12 580 and €3 150 for every subsequent child.
Grand-parents could be eligible for "GYED" - a type of paid maternity leave until their grandchildren reach the age of three.
The Hungarian nursery system will be expanded with 21 000 new places by 2022.
A subsidy of €7 862 will be offered toward the purchase a seven-seat vehicle for families with three or more children.