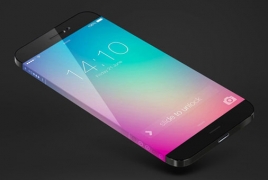 February 16, 2019 - 13:20 AMT
PanARMENIAN.Net - Artificial Intelligence is helping to guide and support some 50 breast cancer patients in rural Georgia through a novel mobile application that gives them personalized recommendations on everything from side effects to insurance, Medical Xprerss reports.
The app, called MyPath, adapts to each stage in a patient's cancer journey. So the information available on the app—which runs on a tablet computer—regularly changes based on each patient's progress. Are you scheduled for surgery? MyPath will tell you what you need to know the day before.
"Patients have told us, 'It just seemed to magically know what I needed,'" said Elizabeth Mynatt, principal investigator for the work and Distinguished Professor in the School of Interactive Computing at Georgia Tech.
Mynatt, who is also Executive Director of the Institute for People and Technology, believes that MyPath is the first healthcare app capable of personalization (through its application of AI) for holistic cancer care. In addition to incorporating a patient's medical data, the app also addresses a variety of other relevant issues such as social and emotional needs.
She will present the work February 15 at the 2019 annual meeting of the American Association for the Advancement of Science.