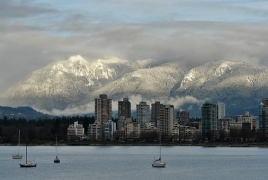 February 19, 2019 - 16:44 AMT
PanARMENIAN.Net - Canadian-Armenian designer and professor Haig Armen has started a program at Vancouver's Emily Carr University of Art and Design called Interaction Design - a first of its kind - focused on the way people relate to objects or systems.
In an article published by The Tyee, Armen says they are the first to teach it in Canada.
"I'm grateful that the university gave me the time to develop the program over the past seven years. Now the program has doubled in size with around 120 students, and we've just announced a master's program… starting fall 2019."
What is Interaction Design? "It's a kind of design that's not overt," he says. "It's more about when something doesn't work well, you notice. It's one of those areas of design that is not about how something looks, but about how it feels and how it functions. You have to know about psychology."
Armen cites the new wave of automotive touch screens as one interactive design area worthy of critical study. "There are really problematic things when you put touch screens on the dashboard of a car," he says. "This is a mission critical area — you don't want to be futzing around with some button in traffic."
He continues: "Typically, interaction designers design websites, mobile apps, interactive installations and networked objects. Students are encouraged to explore emergent technology, experiment to create systems and interfaces with physical, screen and sonic elements."
But Interaction Design goes further. "Our program might be considered quite experimental, since our focus has strong critical and ethical perspectives," Armen says.
"We have our students explore the overuse of technology — for example, the ethics of creating addictive games. Students are made aware of the 'dark patterns' in user experience, such as when companies trick their visitors into buying or subscribing unwillingly. There are also a lot of problems with digital media being designed just for the rich, white and male population of the world. Many interactive experiences are culturally and gender-biased."
Armen's current project combines music, education and design rather neatly. Currently on sabbatical from his teaching position at Emily Carr University of Art and Design, Armen is preparing to head for Dundee, Paris, Estonia, and his ancestral home of Armenia, where he will be helping students design new musical instruments.
"Most of the new instruments we see are electronic, a complete departure from old instruments," Armen says. "But hold on a second. There's a reason a piano is as accessible as it is — you can walk up to it and make a sound. Whereas with some of these electronic things, you have to have a degree, you have to read through a manual to get it to make a sound. I want to encourage people not to give up on the old ways entirely."