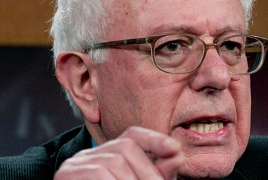 February 19, 2019 - 17:10 AMT
PanARMENIAN.Net - After months of deliberation, Vermont Sen. Bernie Sanders announced Tuesday, February 19 that he is running for president again in 2020. It will be Sanders' second consecutive bid for the Democratic nomination after losing to Hillary Clinton in 2016, CNN reports.
"I am asking you to join me today as part of an unprecedented and historic grassroots campaign that will begin with at least a million people from across the country," he wrote in an email to supporters following an interview on Vermont Public Radio.
Sanders enters the 2020 race as one of the frontrunners -- a remarkable turn for the democratic socialist who, three years ago, was viewed as a protest candidate from the political fringe. Today, Sanders is one of the most popular politicians among Democratic voters and his policy agenda -- a suite of progressive proposals to expand health care, broaden the social safety net and make higher education free -- has been embraced by many of the Democratic party's leading figures.
"I can tell you very happily, and I think any objective observer would confirm what I'm saying, is that in the last year and half or so, the Democratic party has moved in a far more progressive direction than they were before I ran for president," he said in an interview with CNN last year. But in the run-up to his announcement, Sanders and top aides insisted the decision would ultimately turn on a much simpler question: whether he was the best candidate to defeat President Donald Trump next year.
But in his Tuesday morning email and video announcing his run, Sanders -- who described Trump as "a pathological liar, a fraud, a racist, a sexist, a xenophobe and someone who is undermining American democracy as he leads us in an authoritarian direction" -- also set out loftier goals.
"Our campaign," he said, "is about transforming our country and creating a government based on the principles of economic, social, racial and environmental justice."
And in a message to rich and "powerful special interests," Sanders warned: "They may have the money and the power. We have the people."
As reported earlier, Armenian President Armen Sarkissian has asked former Vice President Joe Biden if he intends to run for president in 2020.
Video posted by CNN shows the two meeting at the Munich Security Council in Germany and exchanging a few words, but the conversation is mainly whispered.
"Are you going to run?" Sarkissian is caught asking.
What Biden says, however, cannot be heard as the two start whispering.