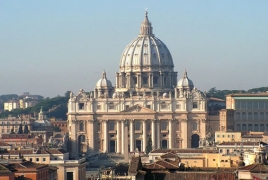 February 19, 2019 - 18:45 AMT
PanARMENIAN.Net - The Vatican has acknowledged for the first time the existence of secret guidelines for priests who break their vows of celibacy and father children, The Guardian says.
However, it declined to make its advice public, saying it was an internal matter. Alessandro Gisotti, a Vatican spokesman, told the New York Times that the "fundamental principle" of the 2017 document was the "protection of the child".
The document requests that a cleric who has fathered a child leaves the priesthood to "assume his responsibilities as a parent by devoting himself exclusively to the child". Gisotti told CBS News that the document was "for internal use … and is not intended for publication".
Survivors of clerical sexual abuse from around the world are gathering in Rome this week to hold vigils and protests outside an unprecedented summit of senior bishops and other church figures called by Pope Francis.
The number of children born to priests is unknown although one support group, Coping International, has 50,000 users in 175 countries. Some children are the result of consensual relationships, but others are the result of rape or abuse.
According to Vincent Doyle, the son of a priest and the founder of Coping International, the issue of clerical offspring is "the next scandal" to confront the church. "There are kids everywhere," he told the New York Times.
A commission set up by Francis to tackle clerical sexual abuse was tasked with looking at how the church should respond to the issue of priests' offspring.