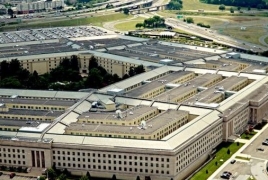 September 4, 2019 - 14:18 AMT
PanARMENIAN.Net - Secretary of Defense Mark Esper has authorized the diverting of $3.6 billion in military construction funds for 11 wall projects on the southern border with Mexico, according to defense officials and a letter from Esper to the Senate Armed Services Committee, which has been obtained by CNN.
In his letter, Esper told Congress he has "determined that 11 military construction projects along the international border with Mexico, with an estimated total cost of $3.6 billion, are necessary to support the use of the armed forces in connection with the national emergency."
The letter does not include the word "wall," as is typical in Defense Department announcements of this kind, but details how the funds will be used for new fencing projects at various border locations.
The announcement fulfills a promise made by President Donald Trump in February to tap military construction funds to build his border wall. The move was slammed by Congress when it was first announced and only recently completed a Pentagon legal review.
On Tuesday, Senate Minority Leader Chuck Schumer called the decision "a slap in the face" to service members.
"This decision will harm already planned, important projects intended to support our service members at military installations in New York, across the United States, and around the world," Schumer wrote in a statement. "It is a slap in the face to the members of the Armed Forces who serve our country that President Trump is willing to cannibalize already allocated military funding to boost his own ego and for a wall he promised Mexico would pay to build."
Schumer said that the lost funding would delay critical construction projects at military installations in New York, such as the US Military Academy at West Point.