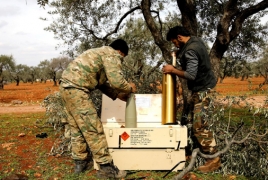 February 28, 2020 - 14:41 AMT
PanARMENIAN.Net - Turkey is "no longer able to hold refugees" following a Syrian attack that killed 33 troops in Idlib, Omer Celik, a spokesman for Turkish President Recep Tayyip Erdogan's ruling AKP party, said on Friday, February 28.
The announcement comes as some 300 migrants walk through northwest Turkey towards its borders with Greece and Bulgaria on Friday, according to DHA news agency.
"As a result of the attack, the (refugees) in Turkey are heading towards Europe, and those on Syrian territory are heading towards Turkey," Celik told CNN Türk shortly after midnight Friday morning. "Our refugee policy is the same as before, but we are now in a situation where we can no longer hold them."
Demiroren news agency said the group of migrants, including women and children, embarked on their journey from Turkey's Edirne province toward borders with Bulgaria and Greece — two European Union nations — at around midnight. Syrians, Iranians, Iraqis, Pakistanis and Moroccans were among those in the group, Deutsche Welle reports.
Turkey hosts some 3.6 million Syrians under a 2016 agreement with the EU to halt the flow of migrants in to Europe. The agreement resulted from European migrant crisis of 2015 in which millions of refugees flooded into Europe, nearly half of which from Syria.