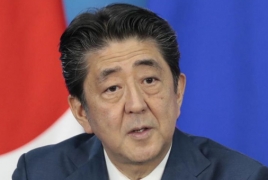 April 7, 2020 - 13:33 AMT
PanARMENIAN.Net - Japan's Prime Minister Shinzo Abe declared a month-long state of emergency Tuesday, April 6 for Tokyo and six other prefectures to ramp up defenses against the spread of the coronavirus, The Associated Press reports.
Abe said Tuesday that there would be no European-style lockdowns. The state of emergency will only permit Tokyo Gov. Yuriko Koike and heads of six other designated prefectures to do more to reinforce calls for social distancing. Virtually all of those measures will be requests that cannot be enforced with penalties for violations.
The COVID-19 outbreak is now rampant and rapidly spreading, threatening people's health, their daily lives and the economy. Abe said he planned to keep the state of emergency in place for a month, until May 6.
The announcement follows surges in new cases in Tokyo, including consecutive rises exceeding 100 over the weekend. By Monday there were 1,116 confirmed cases in the metropolitan region of 14 million people. Nationwide, Japan has 3,906 confirmed cases, as well as a 712 from a cruise ship quarantined at Yokohama port near Tokyo, with 91 deaths.
Tokyo Gov. Yuriko Koike welcomed the emergency measures, saying that because they are legally valid and involve coordinated action with the central government, she expects they "will prevail widely and deeply among the people."
Abe's government is thought to have delayed declaring a state of emergency out of fear of how it might hurt the economy. But as fear of the pandemic has grown, the public and medical experts have increasingly supported taking more drastic action.
Measures include: a stay-at-home request, guidance to schools on temporary closures and requests to close non-essential businesses and stores and to cancel or postpone events and exhibits. Violators cannot be penalized unless they fail to comply with orders on providing or storing emergency relief goods, such as surgical masks and medical equipment.