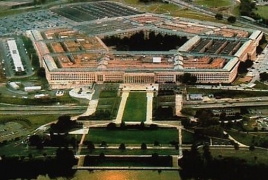 April 15, 2020 - 16:13 AMT
PanARMENIAN.Net - U.S. intelligence indicates that the coronavirus likely occurred naturally, as opposed to being created in a laboratory in China, but there is no certainty either way, the top U.S. general said on Tuesday, April 14, according to Reuters.
The remarks by Army General Mark Milley, the chairman of the Joint Chiefs of Staff, could fan speculation about the coronavirus' origins — something China has dismissed as a conspiracy theory that is unhelpful to the fight against the pandemic.
Asked whether he had any evidence that the virus began in a Chinese laboratory and was perhaps released accidentally, Milley was non-committal at a Pentagon news briefing.
"There's a lot of rumor and speculation in a wide variety of media, the blog sites, etc. It should be no surprise to you that we've taken a keen interest in that and we've had a lot of intelligence take a hard look at that," Milley said.
"And I would just say, at this point, it's inconclusive although the weight of evidence seems to indicate natural. But we don't know for certain."
The claim was denounced by the U.S. government and angered U.S. President Donald Trump, who cited it when he called the coronavirus "the Chinese virus" in briefings. The State Department said at the time that China was seeking to deflect criticism of its role in "starting a global pandemic and not telling the world."