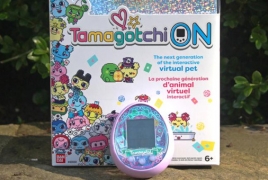 June 12, 2020 - 13:01 AMT
PanARMENIAN.Net - The Tamagotchi, the virtual pet that was so popular in the 90s, is coming to North America again in July, with a new product called Tamagotchi On Wonder Garden, CNN reports.
The $59.99 toy will launch on July 26. Online pre-orders are available at Target, Amazon, Walmart and GameStop.
The On series updates the 90s toy with more modern technology: You'll find the original pets, but now with better graphics in color, and on a device that can connect to a mobile app.
Unlike the original Tamagotchi, the new one can go outside its house, celebrate your birthday with colorful balloons and a festive tune, and even travel to different lands. It can also get married and raise children, who will later grow into adults, and continue the family tree.
And the difficulty level isn't as tough as the original toy. In this version, you can drop off your pet at a hotel for daycare.
Still, the Wonder Garden toy retains the core nostalgic elements from the 90s. To satisfy and grow the pet into adulthood, you need to keep its hunger, happiness and entertainment levels above dangerous thresholds. When it needs something, it beeps -- even when the screen is turned off, which can be frustrating.
Parent company Bandai America first unveiled Tamagotchi On products in North America last year. The company would not share sales figures for North America but said it has sold more than 82 million units globally as of last year.