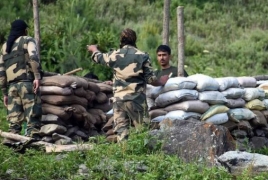 June 17, 2020 - 11:20 AMT
PanARMENIAN.Net - Twenty Indian soldiers were killed during "hand-to-hand" fighting with Chinese troops in a disputed Himalayan region, India's military said, the first deadly clash between the nuclear powers in decades, AFP reports.
Both sides blamed the other for Monday, June 15's violence, which followed weeks of rising tensions over their competing territorial claims, with thousands of extra troops deployed.
The clashes reportedly involved intense fighting and no gunfire, in line with longstanding tactics to avoid a full military battle over the disputed 3,500-kilometre (2,200-mile) border.
An Indian army source said there was no shooting but there were "violent hand-to-hand scuffles".
The fighting occurred in the precipitous, rocky terrain of the strategically important Galwan Valley, which lies between China's Tibet and India's Ladakh.
The soldiers threw punches and stones at each other, with Chinese troops allegedly attacking their Indian counterparts with rods and nail-studded clubs during the more than six-hour fight, the Hindustan Times reported.
India initially said three of its troops had died, and that there were "casualties on both sides".
But in a statement late Tuesday the army added 17 more critically injured were "exposed to sub-zero temperatures... (and) succumbed to their injuries".
China's defence ministry confirmed the incident had resulted in casualties but did not give the nationality of the victims or any other details.