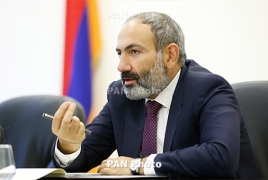 July 28, 2020 - 18:13 AMT
PanARMENIAN.Net - Armenian Prime Minister Nikol Pashinyan has commented on the recent escalation on the Armenian-Azerbaijani border, maintaining that Moscow played a key role in stabilizing the situation.
"The OSCE Minsk Group co-chairs played a very important role in stabilizing the situation. The role of Russia is especially important here, and I think that the steps taken by the Kremlin, the involvement of the Foreign Ministry and the General Staff of the Russian Armed Forces played a key role in ensuring a relatively stable situation. The role of the Russian Federation is, of course, extremely constructive," Pashinyan said.
Pashinyan added, however, that "many in Armenia are wondering why Turkey unequivocally supports the position of Azerbaijan, while the Russian Federation, which is Armenia's strategic partner, does not unequivocally support Armenia."
"It is important to understand that Russia is co-chairing the OSCE Minsk Group, which is dealing with the resolution of the Nagorno-Karabakh conflict," Pashinyan said.
He added that he does not think Russia has distanced itself from the peace process: "Russia cannot distance itself from this situation, because the vital interests of the Russian Federation are involved here alongside those of the Republic of Armenia. Our interests are very much the same. "
The situation on the border between the two countries escalated on July 12, with Azerbaijan launching several unsuccessful infiltration attempts throughout the next week. The Azerbaijani military also used artillery and combat drones to target civilian homes in several border settlements in Armenia. Five servicemen of the Armenian army were killed, while Azerbaijan reported 12 deaths.
In recent days, though, the situation has been relatively calm.