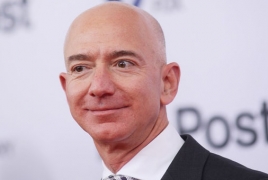 July 29, 2020 - 17:38 AMT
PanARMENIAN.Net - Billionaire tech entrepreneurs Jeff Bezos, Mark Zuckerberg and Elon Musk have made $115 billion this year.
As Bezos and three other technology magnates prepare to defend their businesses at a Congressional hearing on antitrust worries Wednesday, July 29, their fast-growing wealth provides a breathtaking measure of their companies' economic might.
The Amazon.com Inc. founder has seen his net worth soar by $63.6 billion this year. On one day this month, it leaped an unprecedented $13 billion. The world's richest man is now on the cusp of another record: a fortune exceeding $200 billion, according to the Bloomberg Billionaires Index.
Another chief executive officer set to testify, Mark Zuckerberg of Facebook Inc., has grown $9.1 billion richer this year, placing his fortune within reach of the centibillionaire status already held by Bezos and Microsoft co-founder Bill Gates.
Big winners so far in 2020 include Elon Musk, whose net worth has more than doubled to $69.7 billion on the back of surging Tesla Inc shares.
The collective wealth of tech billionaires in Bloomberg's index, a ranking of the world's 500 richest people, has nearly doubled since 2016, from $751 billion to $1.4 trillion today. That's faster than in every other sector. Seven of the world's 10 richest people derive the bulk of their fortune from technology holdings, with a combined net worth of $666 billion, up $147 billion this year.