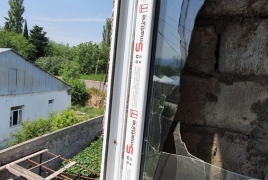 August 3, 2020 - 15:09 AMT
PanARMENIAN.Net - Regardless of conditions caused by the pandemic, Viva-MTS and Fuller Center for Housing Armenia are making efforts to ensure the successful implementation of the housing program in different regions of Armenia.
In the border village of Aygepar, active work started two weeks ago to complete the construction of a half-built house.
The volunteers at the construction site could not even imagine that in a few days they would have to stop the work. The shelling by the Azerbaijani military in the direction of Tavush province, which started in July, was not without consequences for the house under construction. During the shelling of Aygepar kindergarten, the flying fragments reached the adjacent buildings. Fortunately, no one was inside at the time.
"Just after we returned home after work, the shootings started. We had to go to the shelter. In the morning, when we went out, we saw that the village kindergarten had been shelled; and from the fragments, the windows and doors of my house under construction. This is not news for us. We were born and raised here. But we are not psychologically discouraged," said the young hostess of the half-built house, Hermine Kalantaryan.
In Tavush, the housing construction works continue; the construction of the half-built house in Aygepar has resumed. Viva-MTS and Fuller Center for Housing Armenia are determined to solve the problem. The partners of the years are trying to do their best. Organized visits and video calls help follow the progress of the program.
"We need to convey faith and an important message to our compatriots living close to the border: stick to the land and make it bloom. That is important for everyone: both our compatriots in the remote villages and all of us. This program helps have it happen. Result is what matter the most. Our servicemen stand on the guard of the border; we offer the logistical support by means of the housing program. We are soldiers in economic matters. That's the way we try to be useful," Viva-MTS General Manager Ralph Yirikian said in a video call.
"Though we work with restrictions these days, but we try to do our best during one visit. We follow the work process, sign contracts, and involve new families, not forgetting about Viva-MTS wish of possible financial additional investment. This is seen by those living on the other side of the border. They should understand that an Armenian is strong on his land," said the Fuller Center for Housing President, Ashot Yeghiazaryan.
In different regions of the country, the housing program being implemented during these days solves not only social but also psychological problem. By the end of the year, in Aygepar, several housewarmings will be celebrated.