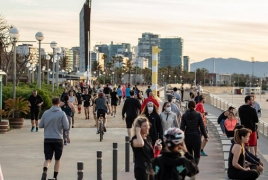 August 3, 2020 - 17:12 AMT
PanARMENIAN.Net - Spain received 204,926 international tourists in June 2020, 97.7% fewer than last year, CNN reported citing a study from the Spanish National Institute of Statistics on Monday, August 3.
The data also showed that the total spend of international tourists visiting Spain in June decreased 98.6% compared to the same month last year. In comparison to June 2019, the spend per tourist dropped 40.8% to $755 (€651) and the average duration of trips was reduced by one day to 5.7 days.
In June, 920,778 national and international travelers stayed in hotels or similar establishments in Spain, with a total of 1,820,455 overnight stays. Both figures represent less than 10% of the estimated totals for this period a year ago. Four-star hotels are the most visited, followed by three-star establishments.
Virus threatens tourism: Spain's tourism industry has suffered setbacks due to the pandemic. In July, the UK government unexpectedly announced that all people returning from Spain would be required to self-isolate for two weeks due to an increase in coronavirus cases, reversing its previous stance.
Norway also imposed a mandatory 10-day quarantine for all travelers returning from Spain following the spike in coronavirus cases, and French Prime Minister Jean Castex has previously advised French people against traveling to Catalonia.
According to Statista, which provides data on the global digital economy, Spain is one of the countries most vulnerable to Covid-19's impact on tourism, with travel and tourism contributing 14.3% to Spain's GDP last year.