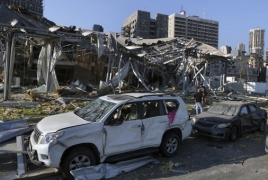 August 5, 2020 - 10:58 AMT
PanARMENIAN.Net - At least three Armenians were killed and 100 others were injured in the twin explosions that rattled Beirut on Tuesday, August 4, Armenian Foreign Ministry spokeswoman Anna Naghdalyan said Wednesday.
Lebanon is in mourning and surveying the damage to its capital Beirut after a massive explosion ripped through the city's port and surrounding areas on Tuesday, killing at least 100 people and injuring 4,000 with many still feared to be trapped under rubble.
"As a result of the explosion in the port of Beirut, the devastation in the Armenian-populated areas, as well as the entire city is extensive. Buildings have collapsed, churches have been damaged, and the building of Haigazian University has been damaged too," Naghdalyan said.
"At the moment, we have information about three deaths and 100 injuries among Armenians. But these numbers may increase, because a lot of people are missing."
Naghdalyan revealed that Armenia is now considering the various scenarios of providing targeted first aid to the people of Lebanon.