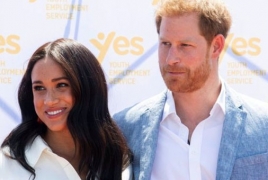 August 10, 2020 - 14:30 AMT
PanARMENIAN.Net - Amid a crisis of health, hate, and truth online, companies need to take a stand for a more compassionate digital world, Prince Harry, the Duke of Sussex, says in an article he wrote.
Prince Harry and his wife, Meghan Markle, started calling business leaders, heads of major corporations, and chief marketing officers at brands and organisations most people use in our daily lives.
"Our message was clear: The digital landscape is unwell and companies like yours have the chance to reconsider your role in funding and supporting online platforms that have contributed to, stoked, and created the conditions for a crisis of hate, a crisis of health, and a crisis of truth," Prince Harry said in the article published on Fast Company.
"We have an opportunity to do better and remake the digital world, to look at the past and use it to inform the future. We must take a critical eye to the last two decades, where advancements in technology and media have outgrown many of the antiquated guardrails that once ensured they were being designed and used appropriately. It shouldn't be seen as a coincidence that the rise of social media has been matched by a rise in division amongst us globally. Social media's own algorithms and recommendation tools can drive people down paths toward radicalism and extremism that they might not have taken otherwise."
The Duke of Sussex said the couple have spoken with leaders across the racial justice movement, experts in humane tech, and advocates of mental health.
"We need meaningful digital reform, and while the role of policymakers and regulators is important, we can't just wait for them to take the next steps. This is a moment for companies around the world—companies with business and advertising models directly tied to digital platforms—to consider how they can bring about reform to ensure the betterment of all," he said.