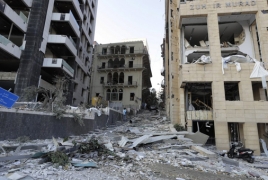 August 10, 2020 - 15:31 AMT
PanARMENIAN.Net - World leaders pledged Sunday nearly $300 million (253 million euros) to Lebanon to help it recover from last week's massive explosion in Beirut, the Voice of America reports.
More than 30 leaders, meeting by teleconference at the behest of French President Emmanuel Macron, said the "assistance should be timely, sufficient and consistent with the needs of the Lebanese people ... and directly delivered to the Lebanese population, with utmost efficiency and transparency."
The money would not be tied to political or institutional reform, Macron's office said. However, pledges were also made for longer-term support that would depend on changes brought in by the authorities, the Elysee Palace said.
The world powers insisted on transparency in how the aid is spent, wary of sending assistance to a government that many Lebanese view as corrupt and also voicing concern about the influence of Iran through the Shi'ite group Hezbollah.
Macron, who visited Beirut on Thursday, said at the opening of the video link that participating nations needed to put aside their differences to support the Lebanese people and that aid should be coordinated by the United Nations.
"Our role is to be by their side," Macron said from his summer retreat on the French Riviera.
The world leaders, including U.S. President Donald Trump, called for an impartial, credible and independent inquiry into the blast that killed at least 158 people and injured about 6,000 others. Some angry Lebanese have called for a revolt to overthrow their political leaders.