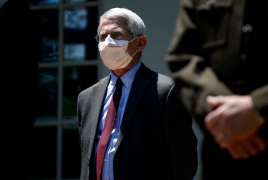 August 12, 2020 - 11:42 AMT
PanARMENIAN.Net - Concocting a vaccine is not the same thing as proving a vaccine is safe and effective, says Anthony Fauci, the director of the U.S. National Institute of Allergy and Infectious Diseases.
His comments came after news out of Moscow that Russia has approved and is ready to market a coronavirus vaccine.
Fauci made the comments as part of a keynote interview for Stopping Pandemics, an exclusive event due to air August 13 via National Geographic.
"I hope that the Russians have actually definitively proven that the vaccine is safe and effective," Fauci said to ABC News correspondent Deborah Roberts, who is moderating the event. "I seriously doubt that they've done that."
Russia has hinted all summer that it's progressing quickly on its vaccine candidate, which is named Sputnik V after the nation's groundbreaking satellite launched in 1960. In May, the director of the Gamaleya Research Institute of Epidemiology and Microbiology in Moscow, where the vaccine is being developed, said he and other researchers had begun testing the drug on themselves before the first phase of human trials began with 76 subjects a month later.
But Gamaleya has yet to publish any results from human trials, which typically involve three phases to check a drug's safety, efficacy, and dosage. The institute also has not released any preclinical research involving animal models or experiments with cells raised in petri dishes.