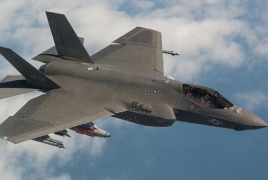 August 13, 2020 - 15:27 AMT
PanARMENIAN.Net - Four key members of Congress, either individually or collectively, have quietly frozen all major U.S. arms sales to Turkey for nearly two years in a move to pressure Ankara to abandon its Russian-built S-400 air defense system, Defense News reports citing a half dozen sources in Congress, the administration, and the defense industry, all of whom requested anonymity.
The legislative action, which has not been previously reported, is another sign of the deeply fractured relationship between the two NATO allies, a disruption that has already led to Turkey's expulsion from the F-35 joint strike fighter program.
While it is unclear exactly how many potential sales have been held back, at least two significant deals are in limbo: a follow-on contract for F-16 structural upgrades and export licenses for U.S.-made engines that Turkey needs to complete a $1.5 billion sale of attack helicopters to Pakistan. Historically, the United States is the largest exporter of weapons to Turkey.
When Congress holds up sales of major weapon systems like tanks, planes and ships, it is typically meant to rebuke a country's specific military or political actions, such as when lawmakers attempted to block sales to Saudi Arabia and the United Arab Emirates in 2019. But freezing arms sales is a diplomatic tool that the United States hasn't used against Turkey since 1978, after the Turkish military invaded Cyprus.
Senate Foreign Relations Committee chairman Jim Risch, R-Idaho, and House Foreign Affairs ranking member Rep. Mike McCaul, R-Texas, acknowledged they are part of the freeze after they were contacted by Defense News.
The two other lawmakers who can sign off on foreign military sales ― House Foreign Affairs Committee Chairman Eliot Engel, D-N.Y., and Senate Foreign Relations Committee ranking member Sen. Bob Menendez, D-N.J., are also part of the hold, according to multiple Capitol Hill sources. Neither would comment for the story.