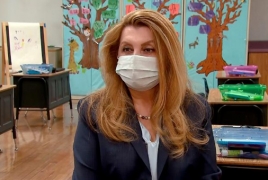 August 18, 2020 - 18:52 AMT
PanARMENIAN.Net - Glendale Unified School District Superintendent Vivian Ekchian has devised a special plan for restarting in-person education on Wednesday, August 19.
Most schools in California will not be reopening for in-person education in August -- but Ekchian, who is of Armenian descent, has come up with a plan to welcome some students back to class. And it doesn't involve their teachers, CNN reveals.
On August 19, when Glendale Unified School District kicks off the academic year, 20 of the district's elementary schools will open some empty classrooms for remote learning.
But instead of the traditional 24 students per classroom, there will be no more than 12. School officials are calling the group a "technology pod," which will be supervised by a single substitute teacher or district staffer.
The staffers won't be teaching the students -- they will instead be present to offer computer technical assistance, monitor students' mask use, enforce social distancing and keep students focused on their work.
Ekchian said she came up with the idea after noticing that many young children of essential workers didn't have proper childcare when schools were forced to pivot to remote learning in March due to the Covid-19 pandemic.
"We learned very early and during the pandemic that our parents who are essential workers, parents who could not work from home or parents who had multiple kids, had a dire need for childcare," Ekchian told CNN.