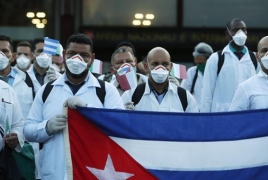 August 19, 2020 - 13:00 AMT
PanARMENIAN.Net - Researchers in Cuba are continuing to develop their own vaccine against Covid-19 and have announced that it will enter clinical trial on August 24, although the results are not scheduled to be released until February 2021, Europe World News reports.
The calendar appears on the Cuban public clinical trial registry and calls for the vaccine to enter testing in two doses and baptized as Sovereign 01 next week to reach 676 people between the ages of 19 and 80, the agency reports. Latin Press.
The Finlay Vaccine Institute will be responsible for the trials, which will run through January 11th. The results will be available on February 1st for publication on the 15th of the same month.
Cuban President Miguel Díaz-Canel has welcomed the progress of this project and is confident that local experts can also provide a medical response to the emergency. The President has defended the importance of having one's own vaccine as a matter of sovereignty.
The Cuban Ministry of Health has so far recorded 3,408 cases of Covid-19 on the island, while the death toll remains at 88.