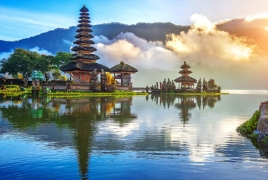 August 19, 2020 - 14:47 AMT
PanARMENIAN.Net - Authorities on the Indonesian island of Bali hope to see the return of some of the millions of international visitors beginning from September 11, six weeks after reopening to domestic tourists on July 31, CNN Travel says in an article.
Tourists usually flock to the beaches, temples, rice fields and yoga studios of Bali, but 2020 has seen a steep decline in the number of international arrivals due to the coronavirus pandemic.
Hotel arrivals in July were down over 99% year on year, Sukawati noted, while the island is missing out on around 9.7 trillion rupiah (over $650 million) of income every month. While some Balinese are able to return to their family orchards, rice fields or fishing boats and contemplate rebalancing the economy towards the traditional way of life that sustained the island for centuries, other islanders have, quite literally, nowhere to go.
Tjokorda Oka Artha Ardana Sukawati, Bali's vice-governor and former chair of the island's hotel and restaurant association, said the date remains tentative, but reopening is critical to the island's economy.
However, the ultimate decision on when international visitors can return to Bali falls to the central government in Jakarta, which dictates when tourist visas (or the visa waiver on which many international visitors enter Bali) can be issued.
Besides, few travelers are willing to brave two weeks of quarantine -- whether at the beginning or end of their trip -- for a short vacation. Meanwhile, most travel and medical insurers will not cover visitors to destinations their government recommends avoiding.
The coordinating minister for Maritime Affairs and Investment, Luhut Binsar Pandjaitan, has suggested to local media that Indonesia will not open to tourists until at least the end of 2020.
Whether Bali's reopening date is September 11, December 31, the summer of 2021 -- or some point in between -- formidable obstacles remain to be addressed.