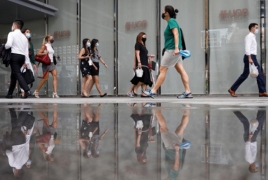 August 22, 2020 - 11:22 AMT
PanARMENIAN.Net - Researchers in Singapore have discovered a new variant of the Covid-19 coronavirus that causes milder infections, Reuters reports citing a study published in The Lancet medical journal this week.
The study showed that Covid-19 patients infected with a new variant of SARS-CoV-2 had better clinical outcomes, including a lower proportion developing low blood oxygen or requiring intensive care.
The study also showed the variant, which has a large deletion in a part of its genome, elicited a more robust immune response.
The study involved researchers from various Singapore institutions, including the National Centre for Infectious Diseases (NCID), the Duke-NUS Medical School and the Agency for Science, Technology and Research.
"These studies provide the first convincing data showing that an observed genetic change (mutation) in SARS-CoV-2 has affected the severity of disease in patients," said Gavin Smith at Duke-NUS.
The scientists said the findings had implications for vaccine development and treatments for Covid-19.
Almost 23 million confirmed cases of Covid-19 have been reported around the world and more than 799,000 have died from the virus, according to Johns Hopkins University.
The head of the World Health Organisation (WHO) has said, meanwhile, that he hopes the coronavirus crisis can be ended in less than two years.