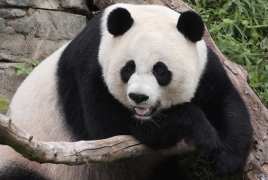 August 22, 2020 - 12:55 AMT
PanARMENIAN.Net - "Joyful news: a precious giant panda cub has arrived!," the zoo announced on their website.
"Mei Xiang gave birth and is caring for her newborn attentively. Keepers are watching Mei Xiang's behavior and hope to see her nurse the cub and cradle it close to keep him/her warm. They're also listening for loud squeals, which are signs of a healthy cub."
A neonatal exam will be performed when keepers are able to retrieve the cub, which may take a few days. The sex of the cub will not be determined until a later date, the zoo said in a press release.
Zoo veterinarians confirmed evidence of a fetus on an ultrasound August 14 and August 17. During the procedures, they saw clear images of a developing skeletal structure and strong blood flow within Mei Xiang's uterus. It was a significant opportunity as Mei Xiang usually chooses not to participate in ultrasounds in the final weeks of her pregnancies and pseudopregnancies.
You can watch the panda via the Smithsonian's Panda Cam.