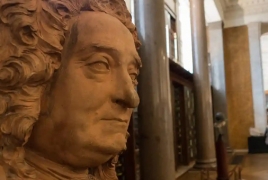 August 25, 2020 - 13:02 AMT
PanARMENIAN.Net - The British Museum has removed a bust of its founding father, who was a slave owner, and said it wanted to confront its links to colonialism, The Guardian reports.
Hartwig Fischer, the institution's director, revealed the likeness of Sir Hans Sloane has been placed in a secure cabinet alongside artefacts explaining his work in the context of the British empire.
Speaking to the Daily Telegraph, Fischer said: "We have pushed him off the pedestal. We must not hide anything. Healing is knowledge."
The decision had been taken partly as a result of the Black Lives Matter movement, the museum's curators said. Protests against racial inequality broke out around the world following the death of George Floyd in the US in May.
Sloane – a physician born in Ireland in 1660 – partly funded his collection from enslaved labour on Jamaican sugar plantations. His artefacts provided the starting point for what became the British Museum.
Fischer said: "Dedication to truthfulness when it comes to history is absolutely crucial, with the aim to rewrite our shared, complicated and, at times, very painful history.
"The case dedicated to Hans Sloane and his relationship to slavery is a very important step in this. We have pushed him off the pedestal where nobody looked at him, and placed him in the limelight.