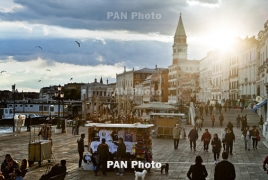 August 25, 2020 - 18:30 AMT
PanARMENIAN.Net - The global tourism industry has been devastated by the coronavirus pandemic, with $320bn lost in exports in the first five months of the year and more than 120 million jobs at risk, the United Nations chief has said, according to Al Jazeera.
In a policy briefing and video address on Tuesday, August 25, Secretary-General Antonio Guterres said international tourist arrivals decreased by more than half because of the global health crisis, which has crippled the world's economies.
Tourism is the third-largest export sector of the global economy, behind fuels and chemicals, and it employs one in every 10 people worldwide, Guterres said. In 2019, it accounted for 7 percent of global trade.
"That is why it has been so painful to see how tourism has been devastated by the COVID-19 pandemic," the UN chief said.
The coronavirus pandemic has killed more 813,000 people worldwide amid more than 23.6 million cases, according to data collected by the Johns Hopkins University. Nearly 15.3 million have so far recovered.
In an attempt to curb the spread of the virus, countries around the world have taken sweeping measures, including full lockdowns, shutting down airports, imposing travel restrictions and completely sealing their borders.