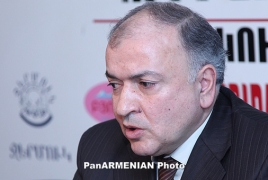 August 27, 2020 - 18:08 AMT
PanARMENIAN.Net - A new settlement will be established in Armenia for the first time since declaring independence, Deputy Minister of Territorial Administration and Infrastructure Vache Terteryan told a Cabinet meeting on Thursday, August 27.
Jradzor community in the province of Shirak will be resettled to pave the way will for the construction of Kaps Reservoir, Terteryan said.
The construction of the reservoir was halted after the devastating earthquake of 1988 and was revived in 2014, when a €60 million deal was signed within an Armenian-German financial cooperation.
According to Prime Minister Nikol Pashinyan, the construction of the reservoir creates opportunities for private investment in the future.
"It will be the first time in the history of the third republic that we create a settlement from scratch. We are building a village," Pashinyan told Ministers on Thursday.
"This program is important not only for the people of Jradzor, but also in terms of our perception of a 21st century Armenian village."