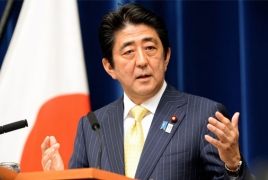 August 28, 2020 - 10:15 AMT
PanARMENIAN.Net - Prime Minister Shinzo Abe of Japan will resign because of ill health, the country's national broadcaster reported on Friday, August 28, just four days after he exceeded the record for the longest consecutive run as leader in Japanese history, The New York Times reports.
Abe, 65, had been prime minister for nearly eight years, a significant feat in a country accustomed to high turnover in the top job.
The governing Liberal Democratic Party will appoint an interim leader who will serve until the party can hold a leadership election. Abe's term was set to expire in September 2021.
The Japanese news media had been speculating about Abe's health for weeks, particularly after he significantly dialed back public appearances as a new wave of coronavirus infections erupted in clusters throughout the country. When Abe visited a hospital twice in the span of a week, the rumor mill went into overdrive.
Abe, the grandson of a prime minister accused of war crimes and the son of a former foreign minister, began his first, yearlong stint as prime minister in 2006. As he resigned in 2007 under a cloud of scandal, he cited the debilitating effects of ulcerative colitis, a bowel disease.
It was unclear whether Abe was suffering again from the effects of that disease or had contracted another ailment.