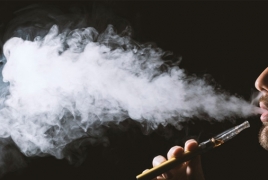 September 5, 2020 - 16:27 AMT
PanARMENIAN.Net - Doctors and researchers believe smoking and vaping could enhance the coronavirus's ability to spread from person to person, infiltrate the lungs and prompt some of Covid-19's worst symptoms, The New York Times reports.
Since the start of the pandemic, experts have warned that the coronavirus — a respiratory pathogen — probably capitalizes on the scarred lungs of smokers and vapers.
While several studies have found that smoking can more than double a person's risk of severe Covid-19 symptoms, the relationship between vaping and Covid-19 is only beginning to become clear. A team of researchers recently reported that young adults who vape are five times as likely to receive a coronavirus diagnosis.
"If I had caught Covid-19 within the week before I got really ill, I probably would have died," said Janan Moein, 20, who was hospitalized in early December with a collapsed lung and a diagnosis of vaping-related lung illness.
Moein vaped his first pen a year ago, and by late fall he was blowing through several THC-laced cartridges a week.
Just months later, he found himself in the emergency room of Sharp Grossmont Hospital in San Diego, where he was plunged into a medically induced coma and forced onto a breathing machine. He lost nearly 50 pounds in two weeks.
At one point, Moein said, his doctors gave him a 5 percent chance of survival