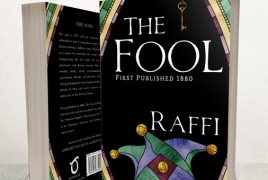 September 9, 2020 - 11:35 AMT
PanARMENIAN.Net - A fresh and complete translation of "The Fool" by celebrated Armenian writer Raffi is coming in November, the Sophene Armenian Library said in a tweet.
"Very excited to announce our forthcoming translation of one of the best known works of Armenian literature, "The Fool". This is the one the people wanted, so we worked hard to be able to release on its 140th anniversary in 2020," the library said.
An earlier translation of the novel was rendered by Jane S. Wingate in 1950.
According to the Sophene Library, however, Wingate "altered part of the plot, omitted portions of the book and took other liberties, so an improved one has been sorely needed".
The new version of the translation is provided by Kimberley McFarlane and Beyon Miloyan.
"The Fool" is one of the best-known novels of one of Armenia's greatest novelists. Based on the last Russo-Turkish War (1877–78), the plot tells a romance set against the background of the divided Armenian nation.