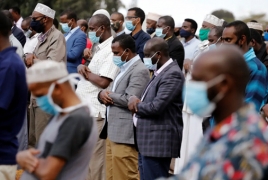 September 9, 2020 - 17:57 AMT
PanARMENIAN.Net - The majority of Kenyans who get coronavirus—around 80%, according to health cabinet secretary Mutahi Kagwe—seem to be asymptomatic. And Kenyans seem to be dying of coronavirus at far lower rates than elsewhere in the world. And experts are trying to understand the phenomenon, Quartz says.
Officially, 581 people have died of coronavirus in Kenya. The true total is likely higher, as the country's testing capacities are limited, especially in rural areas. But it's still a strikingly small proportion of official case counts: less than 2% of the 34,493 people who have tested positive for coronavirus. This figure is distinct from the mortality rate, since many cases are never diagnosed. But still, Kenya's numbers stand apart: Coronavirus infected 272,912 people in Italy, according to government figures, and 13% died, creating a death toll of 35,507.
Coronavirus antibody testing in Kenya puts the country's relatively low number of deaths in even starker context. Immunologists from the KEMRI-Wellcome Trust Research Program in Kilifi, Kenya tested 3,174 people across the country from the end of April to the middle of June, and found that 5.6% tested positive. "We estimate that 1 in 20 adults in Kenya had SARS-CoV-2 antibodies during the study period," wrote the authors in their paper, which has not yet gone through peer review but was published as a preprint in July. And yet, by midway through the survey, Kenya had only reported 71 deaths from coronavirus—far lower than the number of deaths reported globally in countries with similar levels of antibodies.
If the survey's results accurately reflect Kenya's overall infection rate, then 2.5 million Kenyans had coronavirus in that period. According to the World Health Organization's conservative estimate of a 0.5% morbidity rate, that many infections would have resulted in around 12,500 deaths. Even factoring in the likelihood that official testing hasn't captured the full impact of coronavirus, Kenyan hospitals simply aren't reporting the number of patients expected given national antibody levels.
The reason for Kenya's low death count is unclear. "Coronavirus is a new disease and there's a lot of unknown. We are still speculating," says Duncan Nyukuri, an infectious disease physician at Kenyatta National Hospital in Nairobi. But Kenyans' youthfulness is likely a major factor. Half of the population is younger than 20, and only 4% are 60 or older, according to a report from the United Nations University World Institute for Development Economics Research.