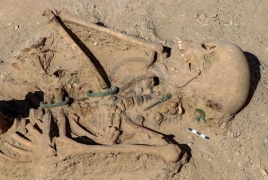 September 10, 2020 - 11:31 AMT
PanARMENIAN.Net - A grave belonging to a noble Urartian woman buried with her jewelry was found at the Çavuştepe Castle in Van, Turkey, Daily Sabah reports.
The valley where the find was made was once known as Hayots Dzor (Valley of the Armenians) in historic Armenia.
Since 2017, excavation works have been ongoing at Çavuştepe Castle, conducted by a team of academics led by professor Rafet Çavuşoğlu, head of the archaeology department at Van's Yüzüncü Yıl University.
Over the course of the protracted dig, the team found a necropolis believed to mark the burial site of the Urartian ruling class.
The discovery of the skeletal remains of a woman buried with a full set of exquisite jewelry was a significant find. The team's anthropologists are now set to examine the skeleton in a lab environment to determine the cause of death and the exact age of the woman.
Çavuşoğlu has explained that the grave probably belonged to a woman aged 20-25: "What matters here is that the woman was buried with all her jewelry. There is almost a complete set of jewelry on her skeleton, which indicates that the adornment traditions of Urartian women were very highly considered. We have determined that the skeleton belonged to a noblewoman, given that there were bracelets on both her wrists, a bronze ring in her left hand, a pendulum earring on both her ears, a brooch on the lower part of her neck and a necklace made of semi-precious stones on her neck. It is understood that she was buried with all the jewelry she used in daily life."