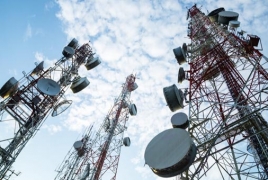 September 10, 2020 - 16:00 AMT
PanARMENIAN.Net - Georgian authorities are seeking to block Azerbaijani investment in the country's telecommunications infrastructure, according to a new article published by The Jamestown Foundation.
Georgia's parliament has approved amendments to the Law on Electronic Communications, which will allow the Georgian National Communications Commission (GNCC) to appoint "special managers" to telecommunications companies.
Public discussion of the bill sparked loud controversy in Georgia: many domestic broadcasters and journalists accused the government of seeking to appoint "special managers" over independent TV companies deemed "disloyal" to the ruling Georgian Dream (GD) party and its leader, billionaire Bidzina Ivanishvili. Criticism of the government initiative grew so sharp over the summer that GNCC head Kakha Bekauri was forced to issue open reassurances to journalists. According to Bekauri, the changes in the legislation do not apply to reporters or media outlets but are, instead, aimed at "protecting fiber-optic infrastructure that is critical for the country." He further asserted that the new amendments to the law will provide the GNCC with additional opportunities to regulate telecommunications companies that violate the law or ignore the commission's legal requirements (Imedinews, July 15).
Bekauri carefully avoided any specifics in his statements. Yet, it was widely recognized that the legal amendments were motivated by the authorities' desire to block the sale of 49 percent of shares of the telecommunications firm Caucasus Online Georgian to NEQSOL Holding, which is owned by Azerbaijani businessman Nasib Hasanov and has major interests in telecommunications, oil and natural gas, as well as the construction sector.
Caucasus Online's most important physical asset is the Caucasus Cable System, a 1,200-kilometer fiber-optic cable (FOC) constructed along the bottom of the Black Sea by Tyco Electronics (today known as TE Subcom), that directly transits Internet traffic from Europe to the South Caucasus and the Caspian basin. Last year, after difficult negotiations, the owner of Caucasus Online, Khvicha Makatsaria, agreed to sell 49 percent of his company's shares to NEQSOL Holding (Bm.ge, April 27, 2020). The monetary value of the transaction is officially unknown, but it was strongly criticized by the GNCC. The agency's head, Bekauri, stated that the transaction had not been approved by the commission in advance, thus making it illegal and so should be canceled. On October 17, 2019, the GNCC demanded that the sold block of shares be returned to their former owner. Since late 2019, it has fined Caucasus Online six times for a total of nearly $300,000 (Comcom.ge, November 17, 2019).