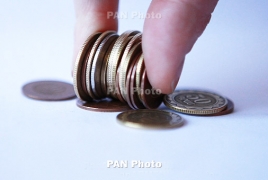 September 15, 2020 - 13:09 AMT
PanARMENIAN.Net - The Armenian economy will contract 4% in 2020 – down from a previous forecast of 3.5% decline – recovering to 3.5% growth in 2021, the Asian Development Bank said Tuesday, September 15 in an update to its forecasts.
The ADB said in April that economic growth in Armenia was projected to slow from "the unusually high rate" of 7.6% achieved in 2019 to 2.2% in 2020 due to the impact of Covid-19. The Bank revised its forecast in July to predict 3.5% contraction, before making the latest prediction of 4% GDP decline.
Under Covid-19, the economy reversed 7.0% growth a year earlier to contract by 5.7% in the first half of 2020, the report said. Agriculture grew by only 1.8%, with livestock and crops weak. Industry excluding construction fell by 2.0% as declines in manufacturing, electricity, and water supply outweighed gains in mining and quarrying. Lockdown from mid-March to mid-May postponed investment projects, slashing construction by 30.4%. Services contracted by 4.4% almost across the board.
With the pandemic expected to persist through 2020, the ADB update projects recession in 2020 and, with modest recovery expected in Armenia's trade partners, positive growth in 2021.
Inflation has been low, with weak demand at home and abroad, low oil prices, and a fairly stable exchange rate, according to ADB.
Azerbaijan is expected to contract by 4.3% in 2020, then post fragile 1.2% growth in 2021.
Meanwhile in Georgia, the economy will contract 5% in 2020, before recovering by 4.5% in 2021.