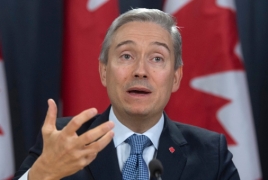 October 1, 2020 - 11:58 AMT
PanARMENIAN.Net - Canadian Foreign Affairs Minister Francois-Philippe Champagne has ordered an investigation into allegations Canadian technology is being used in drones that are targeting Armenians in the ongoing conflict along the Nagorno-Karabakh contact line, CTV News reports.
"Canada is deeply concerned by reports of large scale military action along the line of contact in the Nagorno-Karabakh conflict zone, and we call for the immediate end of hostilities, respect for the ceasefire agreement, and the protection of civilians," said Michel Cimpaye, a spokesperson from Global Affairs Canada, in a statement.
His comments come in the wake of allegations from Canada's Armenian community that a Canadian-made sensor is being used in Turkish-manufactured drones that they say have been deployed in the ongoing conflict, targeting both military positions and civilian settlements.
"We are aware of the allegations made that Canadian technology is being used in this conflict. The minister of foreign affairs immediately directed our officials to investigate these claims," Cimpaye said.
The Canadian peace research institute Project Ploughshares recently published an extensive report on this issue. It says it gathered evidence that "strongly indicates" Burlington, Ont.'s L3Harris Wescam sensors have been mounted on Turkey's unmanned aerial vehicles (UAVs) — better known as drones — which the report claims "have been used extensively by Turkey in its recent military activities."
Azerbaijan launched a major offensive against Karabakh (Artsakh) in the morning of September 27, shelling Armenian positions and civilian settlements with large caliber weapons and rocket systems. Armenia and Karabakh have introduced martial law and total mobilization. The Armenian side has reported deaths and injuries both among the civilian population and the military. On September 29, the Azerbaijani army began shelling positions and civilian settlements in Armenia, which resulted in civilian casualty.