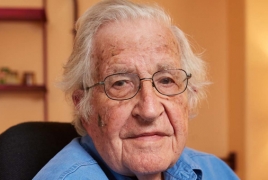 October 12, 2020 - 22:55 AMT
PanARMENIAN.Net - President Recep Tayyip Erdogan in Turkey is basically trying to create something like the Ottoman Caliphate, according to Noam Chomsky, the legendary MIT professor who practically invented modern linguistics.
Chomsky said Azerbaijan initiated the recent hostilities in Nagorno-Karabakh: "Ben Gurion airport in Israel, Ilyushin planes coming in and out, while no other planes are flying [into Baku], sending Israeli arms to Azerbaijan so they can kill people, Armenians in Nagorno Karabakh. So yes, this is an escalation."
The scholar said it's time for international diplomacy, for negotiations to take place to try to dampen it down.
"The actors are not the nicest people in the world, to put it mildly. Erdogan in Turkey is basically trying to create something like the Ottoman Caliphate, with him as caliph, supreme leader, throwing his weight around all over the place, and destroying the remnants of democracy in Turkey at the same time," Chomsky said in an interview with writer and broadcaster David Barsamian.
"Israel is interested only in selling arms. They'll sell them to everybody no matter who they're killing. That's the mainstay of their economy: security and arms."
Azerbaijan, with help from Turkey and mercenaries deployed by Ankara, launched a large-scale offensive against Karabakh (Artsakh) in the morning of September 27, shelling Armenian positions and civilian settlements with large caliber weapons and rocket systems. Armenia and Karabakh have introduced martial law and total mobilization. The Armenian side has reported deaths and injuries both among the civilian population and the military. International and local journalists too have been injured in Azeri shelling of towns and villages, as well as the iconic Ghazanchetsots Cathedral in Shushi. Before a humanitarian ceasefire could begin on October 10, Azerbaijan launched a new offensive and struck settlements both in Karabakh and Armenia.
Donations can be made to Hayastan All-Armenian Fund, which has launched a fundraising campaign to support Karabakh amid Azerbaijan's aggression.