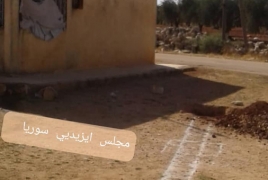 October 13, 2020 - 15:33 AMT
PanARMENIAN.Net - Turkish-backed groups are planning to build a mosque in the Yazidi village of Basoufan in Afrin, Syria, where not a single Muslim lives, according to a statement from the Syrian Yazidi groups.
Since the Turkish-backed Islamist group took control of Ras al-Ayn, Afrin, Tell Abyad and other Syrian areas, they have been robbing the residents' homes, plundering their properties and cutting down their trees in broad daylight in order to displace them and settle Idlib families in those areas instead, the statement says.
Yazidi organizations say those groups are also exhuming graves, stealing antiquities and property, and demolishing symbols and shrines of the Yazidis.
Turkey-backed Islamists are building the mosque on the ruins of old cemeteries and in the schoolyard, in a village populated by Yazidis only.
And every time residents object to such violations, they are accused of affiliation and support for the Kurdistan Workers' Party (PKK).