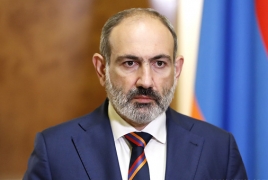 October 14, 2020 - 15:23 AMT
PanARMENIAN.Net - Armenian Prime Minister Nikol Pashinyan said Wednesday, October 14 that in the negotiation process Azerbaijan was demanding the immediate handover of five of the seven regions surrounding Nagorno-Karabakh, as well as setting up a schedule for handing over the other two, and stating that Artsakh (Karabakh) should be part of Azerbaijan no matter the status.
According to Pashinyan, Azerbaijan wanted the territories in return for peace, instead of a status for Karabakh, threatening to settle the issue through war.
Russian Foreign Minister Sergey Lavrov said earlier on Wednesday that the OSCE Minsk Group co-chairs are working on a "phased solution" for the conflict. The plan, which Lavrov said is on the table, envisages a "step-by-step, gradual" handover of the regions surrounding Karabakh "while observing the guarantees of the security of Karabakh "ensuring a reliable connection between Armenia and Karabakh before the final status is determined."
The Armenian PM said that clashes in July between Armenia and Azerbaijan showed that the Azerbaijani army is not capable of resolving the Karabakh conflict militarily.
"And Turkey decided it should be the one to deal with the Karabakh issue, beginning to threaten Armenia," Pashinyan said.
Azerbaijan, with help from Turkey and mercenaries deployed by Ankara, launched a large-scale offensive against Karabakh (Artsakh) in the morning of September 27, shelling Armenian positions and civilian settlements with large caliber weapons and rocket systems. The Armenian side has reported deaths and injuries both among the civilian population and the military. Foreign and local journalists too have been injured in Azeri shelling of towns and villages. Although a humanitarian ceasefire was supposed to begin on October 10, Azerbaijan has renewed hostilities along the line of contact.