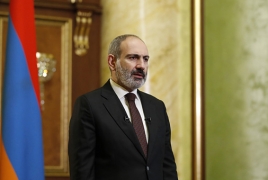 October 14, 2020 - 16:20 AMT
PanARMENIAN.Net - "Will the world allow the emergence of a new Hitler?" is what Armenian Prime Minister Nikol Pashinyan said in his address on Wednesday, October 14, amid Azerbaijan's aggression against Nagorno-Karabakh, which has seen the involvement of Turkey and the deployment of terrorist mercenaries on Azerbaijan's side.
Pashinyan said regional and extra-regional countries that will inevitably be affected by the destabilization in the South Caucasus, must take deterrent measures.
According to him, countries that can restrain the Turkish-Azerbaijani terrorist forces have not properly assessed the situation, believing that territories in exchange for peace is the formula that can save the situation.
The formula is unacceptable for Armenia, Pashinyan said: "It is similar to the Munich Agreement of 1938, when a number of European powers ceded Czechoslovakia to Germany for the sake of peace. You all know what happened next.
"And now the question is this: Will the world allow the emergence of a new Hitler?" Pashinyan charged.
Signed by Germany, Great Britain, France and Italy, the Munich Agreement permitted German annexation of the Sudetenland, in western Czechoslovakia. Both the French and British leadership believed that peace could be saved only by the transfer of the areas to Hitler. The deal, however, later led to the occupation of all of Czechoslovakia and in no way prevented World War II.
Pashinyan said the Turkish-Azerbaijani tandem's initial plan to occupy Nagorno-Karabakh with a blitzkrieg has been suspended, but the situation remains tense.
Azerbaijan, with help from Turkey and mercenaries deployed by Ankara, launched a large-scale offensive against Karabakh (Artsakh) in the morning of September 27, shelling Armenian positions and civilian settlements with large caliber weapons and rocket systems. The Armenian side has reported deaths and injuries both among the civilian population and the military. Foreign and local journalists too have been injured in Azeri shelling of towns and villages. Although a humanitarian ceasefire was supposed to begin on October 10, Azerbaijan has renewed hostilities along the line of contact.