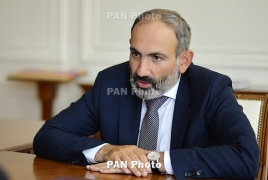 October 19, 2020 - 13:15 AMT
PanARMENIAN.Net - Armenian Prime Minister Nikol Pashinyan has weighed in on the question of whether the Armenian side could have avoided the war unleashed by Azerbaijan and whether cussess can be achieved.
In a Facebook post on Monday, October 18, Pashinyan discussed several aspects of the current situation:
1. What is this war for? The status of Karabakh.
2. Could we have avoided this war? Yes, if we had ceded territories and agreed to an uncertain status of Karabakh for an indefinite period of time, amid the absence of a mechanism for the determination of the future status.
3. Could we achieve an acceptable or any status for Karabakh through negotiations? No, because the last opportunity expired in 2011 in Kazan.
4. Can we stop this war? Theoretically, yes; perhaps with a slightly worse formula mentioned in point 2.
5 Can the war resolve the issue of Karabakh's status? Yes, if we score successes in the war.
6. Can we achieve success in the war? Yes, if we focus the national potential on that goal and all of us sincerely and selflessly commit to it.
Azerbaijan, with help from Turkey and Syrian and Libyan mercenaries deployed by Ankara, started a war against Karabakh (Artsakh) in the morning of September 27. The Armenian side has reported deaths and injuries both among the civilian population and the military. Foreign and local journalists too have been injured in Azeri shelling of towns and villages.
Donations can be made to Hayastan All-Armenian Fund, which has launched a fundraising campaign to support humanitarian efforts in Karabakh.