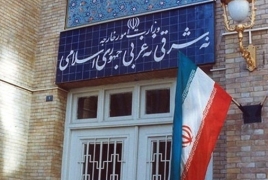 October 19, 2020 - 14:35 AMT
PanARMENIAN.Net - Iran will respond to any aggression, even to unintentional one, amid fighting between Armenian and Azerbaijani forces in Nagorno-Karabakh, Foreign Ministry spokesman Saeed Khatibzadeh said Monday, October 19, according to IRNA.
Commenting on the crisis in Karabakh which has resulted in stray missiles occasionally hitting areas inside the Islamic Republic, Khatibzadeh said the security of the nation is Iran's "red line".
He added that the Iranian armed forces have already sent necessary warnings to the sides.
According to Khatibzadeh, Iran has also urged the sides to refrain from harming civilians, innocent people and prisoners of war while staying committed to international law and protection of human rights.
According to verified information, the Azerbaijani troops have murdered two Karabakh prisoners of war, one of them a civilian, as well as beheaded one Armenian serviceman and posted the photo on social media.
Azerbaijan, with help from Turkey and Syrian and Libyan mercenaries deployed by Ankara, started a war against Karabakh (Artsakh) in the morning of September 27. The Armenian side has reported deaths and injuries both among the civilian population and the military. Foreign and local journalists too have been injured in Azeri shelling of towns and villages.
Donations can be made to Hayastan All-Armenian Fund, which has launched a fundraising campaign to support humanitarian efforts in Karabakh.