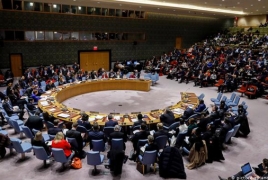 October 20, 2020 - 10:37 AMT
PanARMENIAN.Net - United Nations Security Council members called on Armenia and Azerbaijan to respect a new ceasefire in Nagorno-Karabakh during a meeting on the disputed region Monday, October 19, according to AFP.
The council held closed-door discussions on the fighting, which has left hundreds dead since clashes erupted on September 27, at the UN headquarters in New York.
During the meeting -- which was requested by France, Russia and the United States -- the council's 15 members reiterated a plea by UN chief Antonio Guterres for parties to honor a new ceasefire.
The Council also discussed the need to ensure verification of the ceasefire in Karabakh, Russian Permanent Representative to the United Nations Vasily Nebenzya told reporters on Monday, according to TASS.
"There is a need to ensure verification [of a ceasefire], I think that's the most pressing issue now, since the agreement on a ceasefire has been reached it was not observed," said Nebenzya, who presides over the UN Security Council in October. "The major question is how to verify the ceasefire, which is being violated."
"This issue was raised of course at the consultations and the Council was pretty much united on how they see it," the diplomat said. Meanwhile, he explained that a special mandate of the Security Council would be required for sending a UN observer mission to the region. "That's not an easy and immediate thing," he said.
Russia, which currently holds the council's rotating presidency, is working on a statement that would call for adherence to the ceasefire, diplomats say.
The text -- which is expected to be agreed between council members this week -- will also call on Armenia and Azerbaijan to resume negotiations facilitated by the Minsk Group.
Azerbaijan, with help from Turkey and Syrian and Libyan mercenaries deployed by Ankara, started a war against Karabakh (Artsakh) in the morning of September 27. The Armenian side has reported deaths and injuries both among the civilian population and the military. Foreign and local journalists too have been injured in Azeri shelling of towns and villages.
Donations can be made to Hayastan All-Armenian Fund, which has launched a fundraising campaign to support humanitarian efforts in Karabakh.