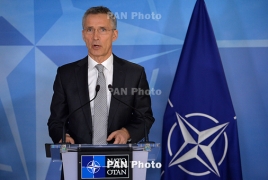 October 22, 2020 - 16:42 AMT
PanARMENIAN.Net - NATO Secretary General Jens Stoltenberg has said the the organization is not involved in the Nagorno-Karabakh conflict and is deeply concerned by violations of the ceasefire, which have caused tragic loss of life.
At a meeting with Armenian President Armen Sarkissian at NATO Headquarters on Wednesday, October 21, Stoltenberg said it is important for NATO and the international security that hostilities end, the suffering stops, and a peaceful solution is found.
"It is vital that all parties now show restraint, observe the ceasefire, and de-escalate the tension", he stressed.
President Sarkissian expressed concern over the blatant military-political assistance provided by NATO member Turkey to Azerbaijan.
Following the meeting, Sarkissian and Stoltenberg made a statement to the press.
"Any targeting of civilians is unacceptable and must stop. Armenia and Azerbaijan must resume negotiations towards a peaceful settlement of the Nagorno-Karabakh conflict. The efforts of the co-chairs of the OSCE Minsk Group are key," said Stoltenberg.
Sargsyan reminded that Armenia and NATO have a history of cooperation: "Armenia has been a good partner all these years. We have peacekeepers in Kosovo and Afghanistan, who are fighting against Islamist terrorism.
"Being at NATO headquarters, I would like to express my concerns, since there is a third party there that provides political, diplomatic and military assistance to Azerbaijan. A third party that supported and brought Islamist terrorists to this region. And, unfortunately, that third party is a member of NATO. Being here, I could not help but talk about that third party, which is Turkey. I think that the NATO member country, Turkey, must stop being a part of this conflict, adhere to the ceasefire and understand that a peaceful solution must be found."
Azerbaijan, with help from Turkey and Syrian and Libyan mercenaries deployed by Ankara, started a war against Karabakh (Artsakh) in the morning of September 27. The Armenian side has reported deaths and injuries both among the civilian population and the military. Foreign and local journalists too have been injured in Azeri shelling of towns and villages.