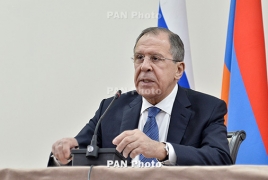 October 26, 2020 - 13:00 AMT
PanARMENIAN.Net - Moscow does not support the position on the admissibility of resolving the Nagorno-Karabakh conflict militarily, Russian Foreign Minister Sergey Lavrov said in an interview with the Athens-Macedonian News Agency (AMNA).
"In the history of Nagorno-Karabakh, the nature of the involvement of Russia and Turkey has specific nuances," the minister said. "We are not hiding that we do not support the position on the possibility and admissibility of a military solution to the problem. We consider both peoples – the Armenians and Azerbaijanis – as friendly and fraternal, we cannot share such aspirations," Lavrov said, according to TASS.
"Russia and Turkey are working to resolve conflicts in hotbeds of tension you listed (in Nagorno-Karabakh, Syria and Libya - Ed). At the same time, it is no secret that our approaches to resolving a number of controversial regional issues, due to objective reasons, can and do significantly differ," Lavrov said when asked about Turkey's involvement.
The Russian foreign policy chief said he has discussed the Nagorno-Karabakh conflict with Turkish Foreign Minister Mevlut Cavusoglu multiple times over the phone.
Armenia and Azerbaijan agreed earlier that a humanitarian ceasefire reached on October 10 and October 17 will take effect in the morning of October 26, according to a statement released by the Governments of the United States, Armenia, and Azerbaijan on Sunday. Azerbaijan, however, has violated the ceasefire, shelling both Armenian positions and the town of Martuni in Karabakh.
Azerbaijan, with help from Turkey and Syrian and Libyan mercenaries deployed by Ankara, started a war against Karabakh (Artsakh) in the morning of September 27. The Armenian side has reported deaths and injuries both among the civilian population and the military. Foreign and local journalists too have been injured in Azeri shelling of towns and villages.