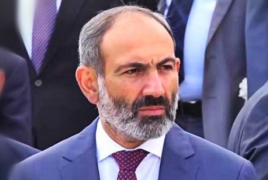 October 27, 2020 - 00:30 AMT
PanARMENIAN.Net - Armenian Prime Minister Nikol Pashinyan said late Monday, October 26 that the humanitarian ceasefire in Nagorno-Karabakh (Artsakh), this time brokered by the United States, has failed to hold again.
Azerbaijan violated the truce just an hour after it came into effect, shelling Armenian positions and civilians settlements and launching a new offensive against Karabakh.
"I would like to state that the efforts of the international community, this time brokered by the United States, to establish a ceasefire, have failed," Pashinyan said on Twitter.
"As a result of continuous shelling by Azerbaijan, civilians were killed and wounded in Artsakh today."
Armenia and Azerbaijan agreed earlier that a humanitarian ceasefire reached on October 10 and October 17 would take take effect in the morning of October 26, according to a statement released by the Governments of the United States, Armenia, and Azerbaijan on Sunday. A humanitarian ceasefire agreement has been reached three times already with the mediation of the leaders of Russia, France and the United States, but Azerbaijan has failed to honor its commitments every time.
Azerbaijan, with help from Turkey and Syrian and Libyan mercenaries deployed by Ankara, started a war against Karabakh (Artsakh) in the morning of September 27. The Armenian side has reported deaths and injuries both among the civilian population and the military. Foreign and local journalists too have been injured in Azeri shelling of towns and villages.