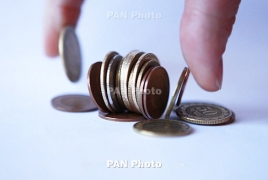 November 2, 2020 - 13:04 AMT
PanARMENIAN.Net - The Ministry of Finance has revised the forecasted decline in Armenia's economy in 2020 from 2.6% to 6.8%, Finance Minister Atom Janjughazyan said on Monday, November 2, Sputnik Armenia reports.
"The forecast for the decline in GDP in 2020, which was previously estimated at 2.6%, was first revised to 6%, then to 6.8%," Janjughazyan said during discussions of the draft budget for 2021.
According to him, the GDP was planned to amount to AMD 7.095 trillion ($16.1 billion) under the budget for 2020, but the forecast has now been reduced to AMD 6.170 trillion ($12.5 billion) in October.
"In 2021, the GDP is expected to grow by 4.6% to AMD 6.598 billion ($13.3 million)," the Finance Minister added.
In mid-September, the Asian Development Bank said the Armenian economy will contract 4% in 2020 – down from a previous forecast of 3.5% decline – recovering to 3.5% growth in 2021.